NDTOA 53rd Annual Meeting and Convention
Dec 2nd & 3rd 2019
Ramada Inn Bismarck, ND
1400 East Interchange Avenue, Bismarck, North Dakota
For those who were unable to attend the convention, here are some of the presentations in PDF format. Click on the following links.
Load Pass - Leanna Emmer
Road Needs Survey - UGPTI
Planning & Zoning - Natalie Pierce
ND association of Counties - Terry Traynor & Genny Dienstmann
ND Livestock Alliance - Amber Boeshans
Prairie Dog Funding - Brent Bogar
Culvert Sizing Software - Josh Loegering
Road Needs Study - Dale Heglund NDLTAP
Developing a Comprehensive Plan - Natalie Pierce
Wise Roads - Dale Heglund NDLTAP
ND emergency Services - Justin Messner & Brent Kahl
Pipeline Development - Justin Kringstad
If someone needs the Power Point files they should contact Larry Syverson: 465 150th Ave NE Mayville, ND 58257-9011 Ph. 701-430-1735 If no answer, please leave a message: Larry.ndtoa@gmail.com
Early Pre-registration until November 25th: $40
Registration after November 25th and at the door: $60 Mail to: Barb Knutson 2600 236th St NE McKenzie ND 58572
The cutoff date for registration for rooms at Ramada Inn is November 18th.
Reservation number is 800-922-5548 or 701-258-7000 Tell them you are with NDTOA to get the price. *****************************
Monday December 2nd Monday Morning Session: (Heritage Ballroom) Monday morning registration will begin at 7:30; the session will begin at 8:30
8:30: Roger Olafson - Opening Ceremonies - Welcome & Introductions
Posting of Colors and Pledge to the Flag by Bismarck VFW Post 1326 Honor Guard.

8:45: Justin Kringstad - ND Pipeline Authority - Pipeline developments.

9:20: .Brent Bogar - Prairie Dog Funding

9:50: Dale Heglund - NDLTAP - Weather Stations out West - What is Wise Roads?

10:05 Break

10:15 Brennan Quintus - NDIRF - Coverage for volunteers doing approved work.

10:30 Leanna Emmer - NDLTAP - LoadPass, How the System Works (Live Demonstration).

11:00 Amber Boeshans - NDLA - Animal Agriculture.

11:30 Al Jaeger, ND Secretary of State - Election Law - Recall of Township Officers.
Monday Awards Luncheon: (Assembly Room)
Remarks by Lt. Governor Brent Sanford

Grassroots Government Leadership Award presentation

President's Award presentation
Monday Afternoon Business Meeting: 1:00PM (Heritage Ballroom)
Monday Banquet: (Assembly Room)
No Host Social 5:00 PM - Banquet 6:00PM
President Roger Olafson & Larry Syverson, Director of Intergovernmental Relations - Legislator of the Year Award

Terry Traynor & Genny Dienstmann - ND Association of Counties - NDACo services and operations.
Tuesday December 3rd
Tuesday Morning Workshop Session: (Heritage Ballroom)
Tuesday morning registration will begin at 7:30; the session will begin at 8:30
8:30 Roger Olafson - Session opening and introductions

8:35 Dale Heglund - NDLTAP - Sign Inspection and Inventory Made Easy.

8:55 Josh Loegering - LaMoure Co. Hwy Dept. - How to use free culvert -sizing software.

9:15 Denise Brown - NDLTAP - Training - gravel, motor grader, culverts and more.

9:45 NDDES - Any help for weather affected Townships? NOT CONFIRMED as of Nov 20

10:05 Break

10:15 Dale Heglund - NDLTAP - Needs Study, What's in it for me?1

10:30 Natalie Pierce - Morton County Planning - Zoning, Land Use Planning,

Writing a Comprehensive Plan for your Township
The 53 Annual Convention of NDTOA will conclude by 12:00 PM Tuesday December 3rd.
NDTOA gratefully acknowledges the generous support of this convention by Dakota Community Bank and the North Dakota Livestock Alliance And we thank Sam's Club for purchasing exhibit space.
Monday December 2, 2019 - (Heritage Ballroom)
1:00PM Business Meeting
a. Call to Order
b. Roll of Counties Present
c. Rules of Operation
d. Consideration of Printed Minutes
e. Treasurer's Report - Barb Knutson
f. President's Report - Roger Olafson
g. Executive Secretary's Report - Larry Syverson
h. Audit Committee Report - Larry Syverson
i. Budget Committee Report - Lee Brandvold
j. Act on Proposed Budget
k. Old Business:
l. New Business:
m. Resolutions - Tom Wheeler, Chm.
n. Thomas Moe - NDTOA Attorney's report and discussions.
o. Elections :
p. Adjournment
Click here for printable PDF of 53rd Annual Convention Agenda
***********************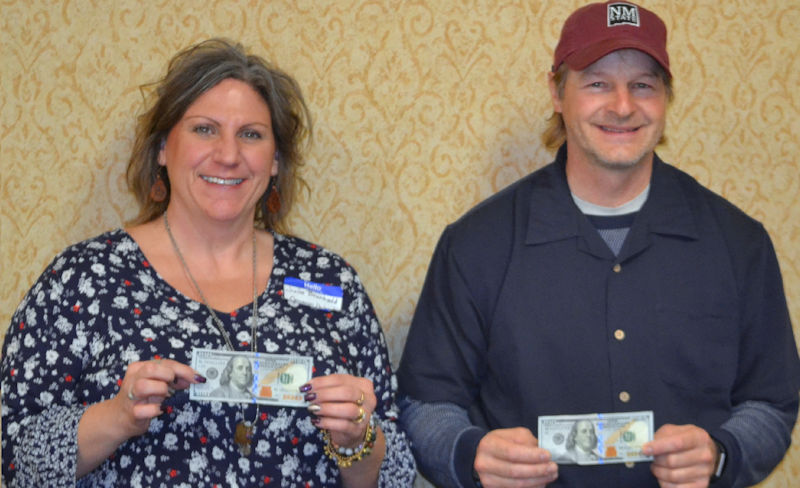 Julie Brandvold of Cameron Township and Mike Hall of Roland Township hold up their $100 prizes.
They were drawn from the list of Township Officers from Dues Paid NDTOA Member Townships that pre-registered for the 53rd Convention and were present for the drawing on the last day of the 2019 convention. That pretty much sums up the drawing rules except to add that the Board of Directors and staff are not eligible for the drawing.
The cash drawing incentive will be continued for future conventions; the next will be the 2020 convention which will be held December 7th and 8th at the Bismarck Ramada Inn.
---
Remember, if you are a township officer this meeting is for you, whether you are a supervisor, clerk, assessor, treasurer or any other officer of your township.